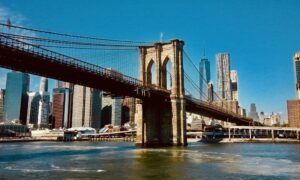 Rethinking Consulting Services is proud to manage and secure the IT networks and data of organizations across the Brooklyn, New York area. Our experienced team of IT professionals has the tools and resources to work for you 24/7 every day of the year to ensure that your productivity is never disrupted by unexpected events. To streamline your network management experience, our team's expertise extends to consulting, managed IT services, managed security services, vulnerability assessments, remediation, and incident response.
At RTCS, our goal is to ensure that your network is managed securely and efficiently while never compromising the security of your data. We effectively function as your IT department, managing and coordinating your network.
RTCS provides the following services to clients located in the Brooklyn, New York area:
Network Management, Patching, Monitoring, and Security
Onsite and Remote Support
Cybersecurity Services
Cloud Services, including consultation and migration
Strategic IT Advice, IT Consulting, and IT Management
Cloud Services
Not only does utilizing the Cloud come with significant savings on IT costs, it's also another added layer of security for your data. We'll work with you to identify which points in your digital ecosystem would be the most advantageous to move to the Cloud, oversee the migration of your processes, and the transition period in between.
Cybersecurity Services
Maintaining the integrity of your network is one of the most important things that you can do as a business owner. Many businesses rely on antivirus software as their only protection against online threats, but organizations of all sizes are vulnerable to malware and phishing attacks. Using powerful firewalls, encryptions, and more, RTCS will ensure that your organization is protected at every level.
Call today to learn how we can help to give your organization the boost that it deserves!
Rethinking Consulting Services also services the following cities: Miami, New York City, Philadelphia, and Washington D.C.