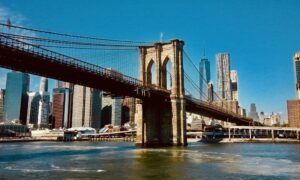 Brooklyn, New York is one of the five boroughs of New York City (the others being The Bronx, Manhattan, Queens, and Staten Island). It is a part of Kings County, which is the most populous county in the state of New York. Brooklyn has a population of 2,736,074 as of the 2020 census. Named for a Dutch village called Breukelen, the land was originally settled in 1634 and was an independent city until 1898, when it was annexed to form the current borough system that comprises New York City today. Brooklyn shares a borough border with Queens and is located on the western portion of Long Island. Bridge and tunnel connections provide access to Manhattan on the other side of the East River and to Staten Island. Construction of the Brooklyn Bridge was completed in 1883, connecting Brooklyn to Manhattan before the creation of the borough system. The creation of the Brooklyn Bridge, which no longer restricted access to water transportation, was a key component in the strengthening of the relationship between the then-cities of Brooklyn and New York. A vote was held in 1894 on whether to merge with New York City, with a slight majority in favor of the decision.
Some of the attractions in Brooklyn include the Brooklyn Botanic Garden, Prospect Park, and the New York Transit Museum. Coney Island is also located in Brooklyn. Coney Island eventually became one of the United States' first amusement parks. It is actually a neighborhood that includes two amusement parks: Luna Park and Deno's Wonder Wheel Amusement Park. The Cyclone roller coaster, a ride originally built in 1927, is on the National Register of Historic Places and other rides from the 1920s, including the Wonder Wheel are still in operation today. Brooklyn is the home of the National Basketball Association's Brooklyn Nets, which moved into the borough in 2012 after previously playing in Uniondale, New York and in New Jersey.
Colleges and universities located in Brooklyn include Brooklyn Law School, which allowed women and African Americans to enroll as early as 1909, and New York University Tandon School of Engineering, which is the second oldest institute of technology in the United States.
Brooklyn is 97 square miles. Of that, 71 square miles is made up of land and 26 square miles is water. The Brooklyn Cruise Terminal is a key component of New York's growing cruise industry. Brooklyn is surrounded by a number of water borders including the Atlantic Ocean, The Narrows, Jamaica Bay, and the East River, which divides Brooklyn from the neighboring borough of Manhattan. The John F. Kennedy International Airport is located in Brooklyn's other neighboring borough Queens and is one of two major airports servicing New York City.
For IT services in Brooklyn, check out Brooklyn IT Solutions.