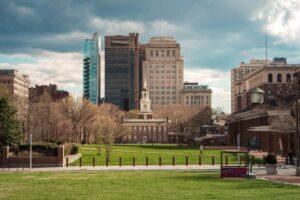 Rethinking Consulting Services is proud to manage and secure the IT networks and data of organizations across the Philadelphia, Pennsylvania area. Philadelphia has been at the cornerstone of development since its inception, and today's digital world is no exception. Our experienced team of IT professionals have the tools and resources to work for you 24/7 every day of the year to ensure that your productivity is never disrupted by unexpected events. To streamline your network management experience, our team's expertise extends to consulting, managed IT services, managed security services, cloud integration, and data science.
At RTCS, our goal is to manage your network securely and efficiently. We'll function as your IT department, handling your day-to-day network needs and operations so that you can focus on what it is that you do best.
RTCS has been servicing Philadelphia's IT needs for years, always staying at the forefront of the latest in IT solutions and development and passing on the benefits of that knowledge to our clients.
RTCS provides the following services to clients within the Philadelphia area:
Managed IT Services — Find peace of mind with 24/7 monitoring and proactive support for your entire IT network system
Desktop Support — From operating system installation and maintenance, patches, virus removal, optimization and more, our team is ready to provide whatever support your organization needs
Cyber Security — Protect yourself from the threat of cyber attacks with the right team behind you. We'll make sure your sensitive data remains secure so that you can focus on growing your organization
Cloud Services — Cut your IT costs and get your organization on the cloud. RTCS is ready to consult on and handle your migration to the cloud, ensuring your access to your network wherever and whenever you need it
Data Science and Analysis — RTCS expert team will analyze and interpret your data, helping you to identify key opportunities to better reach your audience
We look forward to providing you with the finest IT services available in the Philadelphia area! Contact us today to learn more.
Rethinking Consulting Services also services the following cities: Miami, Brooklyn, New York City, and Washington D.C.