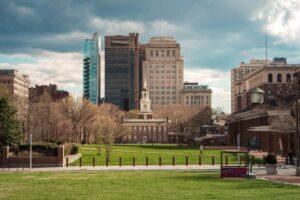 Philadelphia, Pennsylvania — often referred to as "Philly" — was founded in 1682 by William Penn, an English Quaker. It is the largest city in the state of Pennsylvania and the sixth-largest city in the United States with a population of 1,603,797 according to the 2020 census. Philadelphia was the capital of the Pennsylvania Colony in Colonial America and was the location for several key events and meetings throughout the American Revolutionary War, including the First Continental Congress following the Boston Tea Party and later the Second Continental Congress during which the Declaration of Independence was signed by the founders. Following the Revolutionary War, the United States Constitution was ratified in Philadelphia in 1787 and the city served as the country's first capital.
Today, Philadelphia has emerged as one of the United States' leaders in higher education and academic research and has the third-largest student concentration on the East Coast. 18 four-year colleges and universities are located there, including the University of Pennsylvania which is an Ivy League school that claims to also be the first university in the United States. Other notable universities include Temple University and Drexel University.
Due to its location along the Eastern Seaboard of the United States, Philadelphia is able to offer transportation connections to other major metropolitan areas, a significant advantage that has attracted many businesses and industries to the city. Financial services, healthcare, biotechnology, oil refining, manufacturing, and tourism are just a few of the industries that currently drive the Philadelphia economy, and the city is the center of economic activity for both the state of Pennsylvania and the Delaware Valley metropolitan region.
With such a rich history in the founding of the United States and other pivotal moments, tourism is a heavy driver of the Philadelphia economy. The Independence National Historical Park, a federally protected historic district that preserves historic sites associated with the American Revolution, attracts millions of visitors to the city every year. One of the attractions in the Independence National Historical Park is the Liberty Bell, which is one of the most famous and iconic symbols of American liberty.
Only thirteen cities in the United States have teams in all four major professional leagues and Philadelphia is included among them. In Major League Baseball they have the Philadelphia Phillies, in the National Football League they have the Philadelphia Eagles, in the National Hockey League they have the Philadelphia Flyers, and in the National Basketball Association they have the Philadelphia 76ers. The Phillies are the oldest team continuously playing under the same name and the same city in the history of American professional sports. Philadelphia is also home to the Philadelphia Union, a Major League Soccer team. The city also has a number of other professional and minor sports teams.
For IT services in Philadelphia, check out Philadelphia IT Solutions.