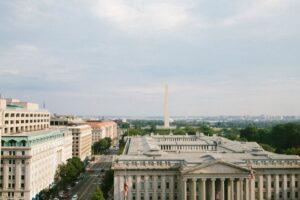 Washington D.C. is the nation capital of the United States. Its formal name is the District of Columbia, but is often referred to as "Washington" or simply "D.C." It is also the federal district of the United States and is located on the east bank of the Potomac River and borders the states of Virginia and Maryland. All three of the branches of the United States federal government (the Legislative, Executive, and Judicial Branches) are headquartered in Washington D.C. The district is not a part of any of the fifty states, nor is it a state itself. It was named for George Washington who was a key figure in the Revolutionary War against Great Britain, was a founding father of the resulting country, and served as the first President of the United States. Efforts to grant statehood to Washington D.C. have been around since the 1880s but have gained momentum in recent years.
In 1790 the Residence Act approved the creation of a national capital along the Potomac River, and it was originally made up of land donated by the states of Maryland and Virginia. Congress held its first session there in 1800 and in 1801 the passage of the District of Columbia Organic Act of 1801 officially organized the district and placed the territory under the exclusive control of the federal government. Residents of Washington D.C. are not considered residents of either Maryland or Virginia, meaning that they do not have representations in Congress. This has been one of the driving factors in the push to grant statehood to the district.
As one of the major political capitals of the world, Washington D.C. attracts millions of visitors every year and is one of the top destinations in the United States. Tourism is the second-largest industry in Washington D.C. after the federal government. Major points of interest include the White House, the Lincoln Memorial, the Vietnam Veterans Memorial, the Thomas Jefferson Memorial, and the United States Capitol. The National Mall is a landscaped park near downtown Washington D.C. that, among other things, was the location for the delivery of Martin Luther King Jr.'s famous "I Have a Dream" speech during the Civil Rights Movement in 1963. It is also bordered by a number of the museums that are a part of the Smithsonian Institution which is the largest group of museums, education, and research centers in the world.
There are just thirteen cities in the United States that are home to teams of all four national sports organizations, and Washington D.C. is among them. Their major professional teams include the National Basketball Association's Washington Wizards, the National Hockey League's Washington Capitals, Major League Baseball's Washington Nationals, the National Football League's Washington Commanders, and D.C. is also home to the Washington Mystics of the Women's National Basketball Association.
For IT services in Washington DC. Check out Washington D.C. IT Solutions.